The MRLC and UNEP Agreement on Cooperation
in the Field of Environmental Law in the Mekong Countries
covers programmes in three fields: strengthening national legislation
for environmental management in the new context
of sustainable development; training programmes for government,
non-government and judicial officers;
and dissemination of information and materials on environmental law.
The following first MRLC/UNEP joint publication,
made possible with the financial assistance of the Danish Government(DANIDA),
covers major treaties and other legal instruments relevant
to the Mekong region. Increased access to international environmental law,
such as this on-line service, will assist the Mekong countries in taking
appropriate measures at the national level to translate
such accords into action. The publication can also be obtained
free of charge to anyone in the Mekong region, by writing to the MRLC.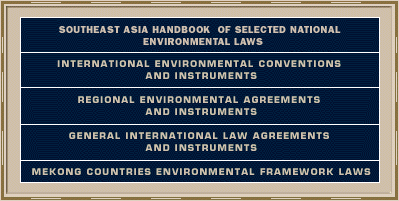 | Home | MRLC Profile | MRLC Structure | Goal & Activities |
| Resource Documents on Environmental Law |
| Current & Future Projects | Mekong Update | Executive Summary |
Copyright 1997 Mekong Region Law Center All rights Reserved.
Mekong Region Law Center is an associate of professionals from the legal communities of Cambodia, Lao P.D.R., Thailand and Vietnam working together to promote judicial cooperation, legal education and the rule of law in the region. Mekong Region Law Center, MRLC, Mekong region law, law in Mekong region, law & development in Mekong, environmental law in Mekong region, Law, Thailand, Justice, Mekong , thailand , laos , cambodia , indochina , environment,Mekong Region Law Center is an associate of professionals from the legal communities of Cambodia, Lao P.D.R., Thailand and Vietnam working together to promote judicial cooperation, legal education and the rule of law in the region. Mekong Region Law Center, MRLC, Mekong region law, law in Mekong region, law & development in Mekong, environmental law in Mekong region, Law, Thailand, Justice, Mekong , thailand , laos , cambodia , indochina , environment, Mekong Region Law Center is an associate of professionals from the legal communities of Cambodia, Lao P.D.R., Thailand and Vietnam working together to promote judicial cooperation, legal education and the rule of law in the region. Mekong Region Law Center, MRLC, Mekong region law, law in Mekong region, law & development in Mekong, environmental law in Mekong region, Law, Thailand, Justice, Mekong , thailand , laos , cambodia , indochina , environment